The open road, breathtaking landscapes, and the freedom to explore the great outdoors – that's what makes camping so incredible. If your dad is as passionate about his RV as he is about his family… then you know camping is the perfect gift.
Whether he's an experienced camper or just getting started, finding the perfect gift for RV lovers to add to his adventures is something he will really appreciate.
These practical gifts are guaranteed to make your RV dads next camping trip the best one yet!
Let's get started with this list of the best gifts for camping dads…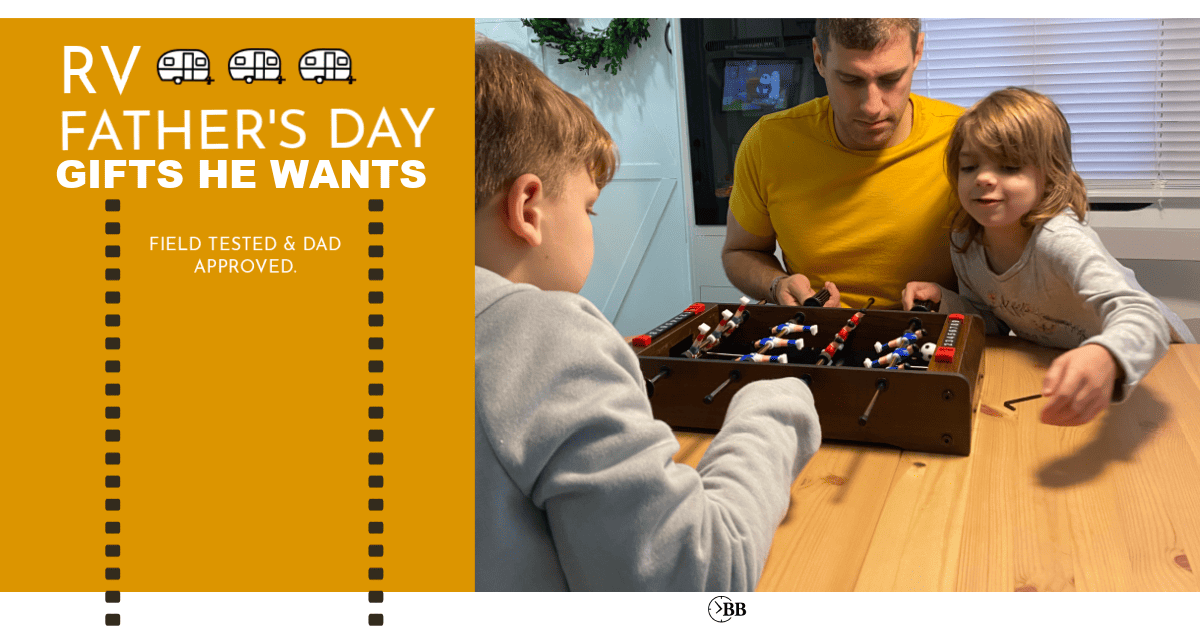 1. Blackstone Table Top Griddle
If you're a camper, you've likely heard about this Blackstone Griddle! Everyone raves about these!
Here's why, they totally replace the need for the grill, you can cook so much stuff on them and they're super easy to clean.
This tabletop version makes it perfect for camping because it still holds a ton of food, is easy to clean, and it's portable!
This is a great idea if dad loves a good meal after a long day of camping.
You can find the Blackstone Griddle here…
2. HALO Bolt Compact Portable Jump Starter
This is a life saver. It doesn't just have jumper cables to jump start your car, lawn mower, and generator in less than a minute… it also charges electronics during a power outage (so you can read downloaded books) and then have a charged phone when the power comes back on.
It's a portable air compressor so you can blow up flat tires, soccer, or basketballs, and has a large "flashlight" for breakdowns that happen at night. My sister got one as a gift and they are so useful she purchased one for all of her kids to keep in their car. Plus, they use them, often.
It's super compact, and lightweight and the attachments are small, manageable, and SIMPLE to use. They also fit in the bag that also houses the HALO so they're easy to keep together.
You can find HALO portable jump start kit here…
3. Trailer Aid Tire Changing Ramp
This $48 tire ramp "is a fast, safe, and easy way to change a travel trailer's flat tire. Trailer Aid and Trailer-Aid Plus allow anyone to change a flat tire anywhere, anytime—without help, without a jack, and without unloading."
Next time dad gets a flat tire, changing it will be a breeze.
Yes, seriously.
You can find the Trailer Aid tire ramp here…
4. Wireless Vehicle RV Leveling System
If you're still leveling the camper the old fashioned way… you're doing it wrong.
Without getting into all the complicated tech stuff like calibrations and whatnot, this is an app that's simple to set up and uses Bluetooth to adjust and show your leveling in real time.
This is the ultimate father's day gift idea for RV enthusiasts.
You can find the wireless vehicle RV leveling system here…
5. Yeti Cups
They keep ice cold all day and night, they hold up beautifully for years, they're dishwasher safe, and if you get two of them, you can use the second one while the first one is being washed to build a water habit that makes life so much easier.
I prefer these over the other popular Stanley cups because I don't have to deal with cleaning straws. I switched to this 3 years ago after buying and losing hundreds of water bottles (and their tops) and I'll never go back. They have almost every color imaginable too.
6. Camp Grill Cooking Set with Travel Organizer
For the guy cooking all of those legendary camping meals, this cookware set is housed in its own little pack that won't take up any extra space.
And this kit is NOT just for grilling, it includes everything they'll need to create epic dinners including knives, kitchen scissors, and serving accessories It even includes a cutting board.
You simply use what you need, wash it, and return it to the pack for
easy storage.
You can find the camp grill cooking set here…
7. RV Ready Open Frame Inverter Generator
Generators are great to have but they're so loud.. and that kind of defeats the whole idea of camping when you want to immerse yourself in the quiet of nature.
This generator is awesome! It can run for up to 22 hours and it's quiet! Easily portable this generator is exactly what you're looking for if you lose power in the RV.
You can find the quiet RV generator here…
8. JBL Outdoor Speaker
What's the point of a relaxing vacation if you can't enjoy your favorite music? This powerful little speaker connects to 2 devices at a time and can play music that it shuffles from both.
It's waterproof, so you can take it to the beach or the lake without worry, and it lasts for HOURS (like 20!) after it's been charged.
You can find the JBL outdoor speaker here…
9. Kitchen Gadgets
This set will help Dad elevate his meals to the next level.
It includes all of your important "gadgets" in one, stackable, easy-to-store unit. It includes a pizza cutter, grinder for garlic, cheese grader, and vegetable peeler. All of which is easy to use and easy to store with this neat little set.
You can find the gadget set here…
10. Oversized Blanket Hoodie Sweatshirt
We don't leave home for camping without these. It's an easy way to stay warm during those chilly nights next to the fire. And they have kids' versions too.
This is basically a soft, warm blanket that you can wear. It's super comfy and after the trip, you just toss them in the washer for easy washing.
You can find the oversized hoodie blanket here…
11. High Power Monocular Telescope
This telescope is cool for the whole family! A way to enjoy nature from far away and even at night. These high powered monoculars let you see animals, hiking views and even birds up close and personal!
You can find the high power monocular telescope here…
12. MudBuster Portable Dog Paw Cleaner
Got a dog who loves to drag mud and muck into the camper?
This paw cleaner will be your saving grace. It's easy to use, you just add a little water, put their paw in the cup and give it a twist. It's a simple way to keep your home away from home (including the beds and couches) from being covered in mud.
You can find the dog paw cleaner here…
13. Gel Memory Foam Enhanced Cooling Mattress
Camping is a lot of fun, but it's also a lot of work. So you need a great mattress that supports your body and promotes a good night's rest. And unless you got a major upgrade when you bought it, the mattress that came with the camper is not gonna cut it.
This 3-inch mattress topper will give your body the support it needs overnight and is also a cooling mat to help combat hot, stuffy nights… and that blaring sun first thing in the morning.
You can find the cooling mattress here…
14. National Geographic Complete National Parks of the United States
The ultimate "where to go" and "what to see guide" for the U.S. National Parks. Go beyond the normal "must-see" adventures and find the scenic trails, recreation areas, and seashores as well.
This incredible guide breaks down the history behind each stop so you can work your way through adventure after adventure.
You can find the complete national parks of the United States here…
15. National Parks USA Travel Map
Now that you know where you're going, this is a gorgeous and memorable map to keep track of all your travel adventures to the national parks.
You can find the USA travel map here…
16. KUNIFU BBQ Grill Scraper
You've heard about grill scrapers sending people to the ER when the bristles break off and end up in your dinner. It's been a really scary topic for the last few years. And finding an alternative that works has been a challenge for campers too.
This is a completely different kind of scraper. Bristle-free and easy to use, this grill scraper deals with charred food, grease, and anything else on the grill. As a bonus, it takes up way less space than a traditional grill scraper.
You can find this grill scraper here…
17. Specialty Coffee Camping Gift Box
If Dad is one of those "coffee is life" people, this is the gift for him! These outdoor specialty coffees were hand selected to complement the experience of a camping trip!
This is a great way to perk up his morning.
You can find the specialty coffee camping box here…
18. Gourmet S'mores Kit
This is a great gift the whole family will enjoy! Each gourmet s'more kit has a different flavor like Cocoa Espresso, Whiskey and Brown Sugar, and Lemon Poppy Seed.
Everyone will enjoy this variety pack which lets you try different flavors to see which ones you like the best.
You can find the gourmet s'more kit here…
19. Überleben Stainless Steel Flatpack Twig Stove
This super small compact stove is like a campfire in your pocket. Take it on hiking trips, or when you don't want to start a huge camping fire.
It's super handy when you need a little extra heat or light. You can cook on it too!
You can find Überleben stainless steel flatpack twig stove here…
20. Power Bank Portable Solar Charger
This power bank includes USB chargers (that can lightning charge 2 devices at the same time), LED Flashlights, and a high-precision compass. It's waterproof, dustproof, shockproof, and can be charged with solar power or an outlet…
You can find the portable solar charger here…
21. Portable Camping Hammock
For the ultimate relaxation and hands down the best place to read your book you should definitely check out this portable hammock. Its lightweight design is perfect for camping and even the beach!
You can find the portable hammock here…
22. Microfiber Camping Towels
These are a must have. Quick dry towels for swimming, showering, and getting stuck in the rain! These towels can absorb tons of water and dry super fast compared to regular towels.
You can find the microfiber camping towels here…
23. RV Hacks: 400+ Ways to Make Life on the Road Easier, Safer, and More Fun!
A huge book of tips and tricks to make camping even better! Seriously, who doesn't need that?
You can find the RV Hacks here…
24. HitchSafe Key Vault
It's like a hide-a-key for your RV. This hidden storage lock box is a stainless steel vault that works by combination, so you can use this to keep a spare set of keys handy. But it's also a great place to keep valuables like money, emergency credit cards, or your driver's license.
You can find the key vault here…
25. Oversized Camping Chair
Super comfortable, lightweight, and packs well for easy storage. This is the ultimate camping chair for lazy days reading or nights around the campfire…
You can find the oversize camping chair here…
26. U.S. Outdoor Adventure Guide Planner List
Create your ultimate bucket list of epic camping adventures with this outdoor adventure planner…
Half the fun of an incredible trip is the planning!
Where do you want to go?
What do you want to do?
What do you want to see?
Answer all those questions and more with this detailed guide and journal created by the people who were directly involved in the national parks.
You can find the outdoor adventure planner here…
27. Waterproof Dry Bag with Front Zippered Pocket
This is the perfect present. It's a bag that keeps your stuff dry no matter what the situation!
Kayaking, chilling on the beach, hanging out by the pool? It even has a waterproof case for your cell phone. Plus, it's a nice looking bag.
You can find the waterproof bag here…
28. Folding Camping Chair Stool Backpack with Insulated Picnic Bag
This is a practical and useful gift. It's a lightweight insulated backpack that holds your gear (and your lunch) but it also transforms into a stool that creates seating wherever you are. Basically, it turns it into a personal picnic table and chair for your dad.
Hiking, fishing, sports games….
Anywhere.
You can find the camping chair stool here…
29. Grill BBQ Accessories
This ultimate grillers kit not only covers the grill but also cooking with the smoker. All utensils fit nearly into this compact aluminum case for easy portability.
You can find the BBQ grill set here…
30. Ladderball Game
This is fun for the whole family. It's easy to learn but harder to master because it's a game of strategy, skill, and luck combined. Which makes for great competition. Everyone will be excited about this game…kids and adults of all ages will love it.
You can find the ladderball game here…
31. Magical Flames Cosmic Fire Color Packets
What could be cooler than a campfire that changes color? And what makes Dad happier than watching his family have the Best Time Ever?
You'll be the talk of the campground with these color-changing fire packs that the whole family will love!
You can find the magic flames fire color here…
32. Table Lamps With Charging Ports
These are a beautiful way to add some additional light to your camping experience. Not only does this give you some extra light at night in the camper…but it also has a charging port to charge your electronics.
You can find these table lamps here…
33. Coleman Battery Lantern
These have been the best selling lanterns since I was a kid camping in a tent with my dad and our Coleman lantern. They still feel the same and yet they've even gotten better.
You can find the Coleman lantern here…
34. Zero Gravity Chair
We bought these to keep with the RV and ended up taking them EVERYWHERE. To the waterpark with the kids (where we'd lay out and read books) to the kid's soccer games, to the backyard campfire. They're light and easy to carry, insanely comfortable and I can't imagine going back to plain old camo chairs.
You can check out the Zero Gravity chairs here…
35. Strategy Board Games
We LOVE board games. And Catan, Pandemic, One Night Werewolf, Do you really know your family? are our absolute favorite games to play while camping.
We play TONS of games but these are the four games that we literally play over and over again. And they're great for both kids and adults.
If you haven't tried any of these new strategy games, give them a shot. They've come a long way since Monopoly!
36. E-Z UP Instant Shelter Canopy
Whether you're using this E-Z UP to protect you from rain or to create an area with a little bit of shade from the sun, this is a great choice. It goes up in minutes with one person.
It's also easy to transport and compact enough so it doesn't take up a ton of space. It folds up into a rectangle and comes in a sturdy zipper bag with wheels that are easy to pull behind you.
37. Campfire Cooking Cookbook
Looking for dinner ideas for your next camping trip? Don't reinvent the wheel, try a few of these time-tested delicious recipes that you're whole family will love… even the picky eaters.
You can find the campfire cookbook here…
38. Fire Starters
Starting a campfire is more difficult than it looks. Actually, it's a skill. These fire starters make Dad look like has the skills to start a roaring fire with absolutely no work at all.
You can find these fire starters here…
39. DVD Player
DVD players are cheap and don't require internet or streaming. And this DVD player is a mini, so it's super compact and easy to store.
The ultimate budget buy for campers. Then you can DIY your DVD collection from the $5 bin at Walmart they have a HUGE selection of new and old movies to choose from.
You can find the mini DVD player here…
40. Pie Iron
One of my absolute favorite desserts is campfire apple pie (you can find the recipe here…). If you haven't tried it… trust me your whole life will change with one bite.
You can find the pie iron here…
41. Extendable Marshmallow Sticks
Both the kids and the adults will love these marshmallow sticks which extend to keep you from burning your fingers and hands. They're great for smaller kids so they don't have to move closer to the fire to roast their marshmallows.
You can find the extended marshmallow sticks here…
42. Coleman Portable Propane Grill
You have to keep it clean, but this is a must have for camping. The power of a backyard grill in a compact and portable travel size. Steaks, chops, and even veggies will grill up amazingly with this portable grill.
You can find the Coleman Propane Grill here…
43. Paddle Board
I prefer these over an inflatable kayak. Paddle boards are becoming an increasingly popular way to work out. Don't get it twisted, paddle boarding is low impact but a full-body workout. It doesn't create extra stress on your joints but you're absolutely doing something good for your body.
It's also an incredible stress reliever. Paddling out on the water, enjoying the sights, sounds, and fresh air of nature… There's nothing like it.
You can find this paddle board here…
44. Raddison Canoe
Some of my favorite childhood memories were days with my dad canoeing on the lake in his Raddison canoe. And now they're even more lightweight, more compact, and even easier to navigate.
If canoeing is your jam… you can't go wrong in this Canoe.
You can find the Raddison Canoe here…
45. Leatherman Multi-tool
This is the ultimate camping multitool and has some really cool features like a fire starter, hammer, and an emergency whistle. It's made in the USA and Dad will not only love this, he will use this all the time.
You can find the Leatherman multi-tool here…
46. RV Toolbox
Just like a house, the RV (otherwise known as your house on wheels) needs a toolbox. But the best part, you can also help him fill it with these "must have" tools for your rving dad.
You can find the perfect toolbox for Dad here…
47. Alexa for the RV
Just like at home, Alexa plays music, turns on the lights, and adds stuff to your shopping list.
If she could cook, she'd be just about perfect.
48. US Bucket List Scratch Off's
Another exciting way to document your adventures as they are happening. It's a state sticker map that gives you full-color stickers to apply to each state as you visit it. You can mark them off one by one until you finish all 50 states.
But the real question is… Where will you start?
You can find the bucket list scratch off's here…
49. Kindle Paperwhite
I didn't jump on the Kindle bandwagon right away. I like the idea of a good old-fashioned book in my hand. But after some time with this Kindle Paperwhite here's what swayed me…
It already has a built-in light and anti-glare, so I can literally read it anywhere.
I can borrow e-books from the library.
It's waterproof, so I can read it in the bath!
After all that, I was sold.
You can find the Kindle Paperwhite here…
50. Electric Blanket
This is one of my favorite camper traditions. Camping in the spring and fall would not be the same without the warmth and comfort that an electric blanket provides. Chilly nights just became super warm and cozy.
You can find this electric blanket here…
51. Instant Pot Mini
You can create amazing and QUICK dinners while you're camping in an Instant Pot. It'll give you more time to read, relax, and play corn-hole.
This is a practical gift that will always be useful and will always make dinner as quickly as possible. Here's 25 easy camping Instant Pot recipes to get you started…
You can find the Instant Pot Mini here…
52. Deep Sink Replacement for the RV
This is a bigger deal than some of the other things on this list, but replacing the smaller sink that comes standard in the RV with a deep sink will make clean up after meals MUCH, MUCH EASIER.
You'll finally have room to quickly wash dishes rather than trying to manage all of that in the tiny space.
You can find a deep sink replacement here…
53. RV Back Up Camera
You know what? Backing the RV up is so much easier when you can actually see what's behind you. This is one of those practical gift ideas that dad will absolutely love.
You can find the RV back up camera here…
54. Keurig and K Cup Organizer
If dad is a coffee drinker, he'll need a coffee maker. The Kureig is the best way to get his morning cup as quickly as possible. This Kurieg is built for extremely small spaces, so it won't take up a lot of space.
You can grab the coffee pods in bulk at Sam's Club or Costo, and this K- cup organizer is for extremely small counter spaces.
55. Cell Signal Booster
This will improve your cell signal strength so you can get important or emergency calls even in remote locations.
You can find the cell signal booster here…
56. Countertop Self Cleaning Ice Maker
If you're the type of camper who enjoys margaritas, rum and coke, and strawberry daiquiris this ice machine makes plenty of ice for whatever you're making but is created for small spaces and takes up no room at all.
You can find the self cleaning ice maker here…
57. Keyless Door Lock System for RV's
No more worrying about losing the keys, or hiding a key, or making backup keys. This system attaches to the RV and requires you to remember 4 numbers to enter the RV. It's so easy to use and even young kids can remember the 4-digit code.
You can find the keyless door lock system here…
58. Portable Power Stations
You can find this portable power system here…
59. Compact RV Checklists
This $5 bundle includes all the RV campers checklists you'll need (printable and fillable) for your trip. The checklists include a packing list, shopping lists, an RV departure checklist, a campsite checklist, meal planning and travel planning.
You can find RV checklist bundle here…
60. Lapboard Desk
Another great RV gift idea. These lap desks are awesome for writing, journaling, and even arts and crafts. When you're lounging around a campsite, these desks will help a ton.
You can find this lap desk here…
61. Outdoor Projector for Movies
Family movie nights that feel like the real drive-in! Snuggle up in your favorite chair, with your comfiest blanket and a big bucket of popcorn, and enjoy the show.
You can find the outdoor projector for movies here…
62. Bedside Organizer
This handy bedside organizer is one of our great gifts for dad. It will give you some extra storage space in the bedrooms and keep the camper neat and tidy.
You can find the bedside organizer here…
63. The Camping Sign You Will Totally Relate To
If you want a real test for your family, park a camper together! They have a ton of funny items related to parking the camper like this apology t-shirt but this camping sign is the best.
Seriously, parking the camper is one of the most highly charged activities you'll ever do together.
It's also the most stressful part of camping… whether he's your father or your husband watching the man you love turn into a lunatic when he sees that you missed the mark by like an inch is an eye-opening experience. 🤷‍♀️
Hint for newbie's: you get 0 points for being close.
You can find the most appropriate camping sign ever here…
P.S. If you're remodeling an old RV and you need tips and inspiration, you can find that here…
P.P.S. Ready to learn more workarounds to getting your budget under control? It's a lot easier than you think! Let's get started with the "90 Day Budget Bootcamp" a step-by-step budgeting program that teaches you how to work around the personality you have and actually stick to a budget.
You can get access to the 90-day Budget Bootcamp for FREE here!