This simple system of meal planning for beginners walks you through the easiest way to start meal planning. No skills to master, and it uses where you are now to set reasonable goals. You can't fail at this.
Update: 4/5/20 I know how stressful it is right now to be cooking 2-3 times a day while you're also trying to work, "home school", referee kids, and get your house under control. We created an epic inspiration binder of the easiest cheap meals. These ideas are field-tested by hundreds of thousands of our readers and are guaranteed to help even the most overwhelmed mom stick to a meal plan.
And we're giving it to you 100% free right now so you can use it to help you get through this time. And bonus: You'll end up using it long after the pandemic is over.

Meal Planning for Beginners
Do you love the idea of saving a boatload of money through meal planning, but every time you try, it seems to cost you more money? You've come to the right place! No complicated coupon cutting here. You don't even need to shop the ads! This is a very basic, step by step instructional on how to start menu planning for beginners.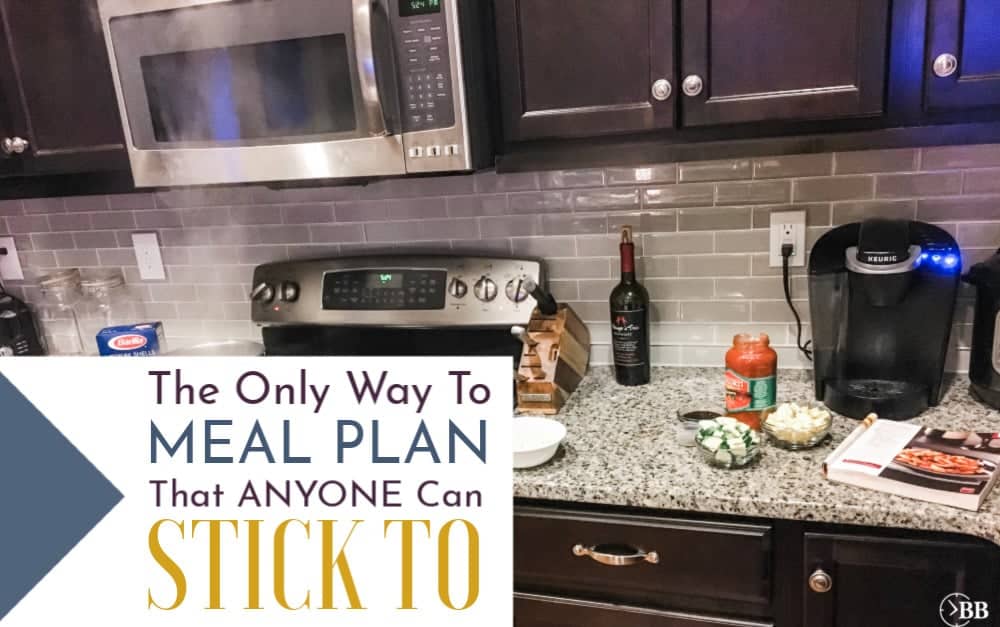 After years of trying and failing to stick to a meal plan, we realized that the only way we would ever see results is if we started where we were (because seriously, no one goes from eating Mcdonalds 4x a week to eating kale smoothies for breakfast) and worked with our personality instead of against it (because I'm not the girl to drive past Chick-fil-A when I'm hungry).
We started making 15 minute meals for every single dinner when we reduced our spending by over $23,000 a year and then paid off all our debt so I can stay home with the kids. We went through Hot Mess to Home Success and it was absolutely life changing. It stepped out the only meal plan I've ever been able to stick to consistently. Hot Mess to Home Success is only open for enrollment once a year, but you can get instant access to their free starter program "Trashed to Total Home Transformation" for free here (and the meal planning was just one of the smaller sections!)
Like in all of the "Budgeting Basics" posts, the last paragraph breaks down the action steps you need to take to master menu planning.
Your grocery budget has the most potential to reduce your monthly spending. Unfortunately, it's also the hardest to reduce because it takes an enormous amount of preparation. If you do it wrong, you'll spend $120/week for 21 meals and then spend another $400 per week eating out every day because you didn't plan accordingly. It doesn't have to be hard though!
Follow these steps to meal plan for beginners and you'll do it the right way to make a significant cut in your budget:
Step-by-Step Instructions for Simple Meal Planning for Beginners
Grab a meal planning sheet with the days of the week on it. (You can print my free one by clicking here).
Look at your weekly schedule- what's going on this week? Do you have to work late, do you have plans for dinner with friends, or a party?
Mark the days that meals will be difficult with a small "X" in the corner.
Put breakfast and lunches on autopilot until you get used to meal planning for a few weeks. Write down 2 or 3 options for breakfast and lunch (bagels or cereal for breakfast, leftovers or sandwiches for lunch). Plan mostly for dinners.
Choose easy dinners (check out the 6 types of dinners I serve below for ideas).
On a separate sheet of paper, list the items that you would need to create those meals.
Make sure that meals that need fresh ingredients are being eaten in the beginning of the week.
Want to take it a step further? Get the free program Trashed to Total Home Transformation here…
The 6 meal types that we use to master simple meal planning for beginners.
1. 15 Minute Meals:
Best for: When the week is extremely hectic. When you'll be frequently working late and out of the house and tempted to eat fast food – 15 Minute meals uses convenience foods sold in stores to make super quick and easy dinners. This may not be the healthiest food, but it's crazy quick and easy, and costs less than the drive-thru.
I love these because it tastes better than eating out, is quicker to make than it is to go through a drive-thru and if needed, we can use paper plates to minimize dishes. You can find my favorite 15 minute meals here.
This is the usually the easiest type to get into meal planning for beginners. You don't need to prep them ahead, remember to defrost and there are no cooking skills involved.
Examples: Pepperoni Pizza Bagels, Chicken Parmesan Pasta, Broiler Steaks and Greek Salad.
2. Slow Cooker Meals:
Best for: When I won't be out of the house for more than 10 hours but want to take a break from making dinner. Slow cooker meals use a slow cooker to cook dinner slowly (in about 8 hours but you can also warm for an additional 2 hours) so you can throw something into the crock pot and come back 10 hours later to dinner being done.
I love this because slow cooker meals tend to be comfort food (read: delicious!) and I can pair it with a simple side to have dinner ready to go. You can see my Slow Cooker- Lazy Dinners Pinterest Board for my favorite Slow Cooker Meals.
Examples: BBQ Pulled Pork Sandwiches, Chili, Broccoli Cheddar Soup, Salisbury Steak, Beef Stew, Cranberry Chicken.
You can check out my Pinterest slow cooker recipe board here.
3. Freezer Cooking:
Best for: When I have time on the weekend or an extra day off (and my husband is willing to watch the kids patiently!). Freezer cooking allows you to make large batches of your favorites foods to create your own convenience foods! So instead of buying convenience foods filled with preservatives at a high cost, you cook them yourself and freeze them for super easy meals later. I love freezer cooking! I love being able to cook without distraction when I batch cook, I love how when we eat our freezer meals we can avoid kitchen clean up (my least favorite job!) and how easy dinner is.
Examples: BBQ Beef Cups, Quesadillas, Hamburgers, Tater Tot Casserole, Chicken and Broccoli Casserole.
HINT: We use this system now for both freezer cooking and the freezer dump cooking below because it's cheaper and makes planning meals and prepping quick and crazy easy. You can make 10 meals in an hour! You can get Freezeasy here.
4. Freezer Dump Cooking (Freezer to Slow Cooker):
(My husband is convinced I'm the only one that calls this dump cooking. It just means you "dump" the ingredients in a bag and freeze it. Then thaw and "dump" it in the slow cooker when you're ready to cook.)
I do this all the time! This is probably my favorite way to get into meal planning for beginners. It combines freezer cooking and slow cooker meals to make super easy effortless meals with very little work. In about 2 hours, you can prep 20 dinners this way. You freeze them in gallon Ziploc bags, thaw them overnight and dump the ingredients from the bag into the crock pot in the morning. Then you come home to dinner already made!
I love how crazy easy this is, the healthy ingredients, and how much time this frees up for other things. You also have the added convenience of no kitchen clean up. We even invest in slow cooker bags so we don't even have to clean out the slow cooker. We use Freezeasy already prepped meal planning packs to do this.
Examples: Beef and Broccoli, Beef Stroganoff, and Orange Pork Chops.
5. Backward Meal Planning:
When I have time and I'm in the mood to cook from scratch, I hunt through my fridge, freezer and pantry and make a list of what I have that I want to use up. I then list meal ideas based on those items. If you have a freezer full of meat that you bought on sale, this is a great time to save a ton of money.
With a few simple sides and extra ingredients, I can often buy groceries for the week for about $20, leaving the extra money that we budgeted for groceries towards our longer term goals like debt reduction or savings.
This is one of the hardest ways to get into meal planning for beginners, but it's definitely gives you the most savings! Reserve this for weekends.
Examples: Homemade Bread, Muffins, Chicken Noodle Soup, Grilled Meats.
6. Plan to Eat Out:
There are totally situations that happen in life where it makes more sense to eat out than to cook at home. Eating out is not bad in itself. The problem is mindlessly eating out and not understanding the sacrifice we make when we spend money on that. One example of a time when we chose to eat out was when our little girl was born. My husband had just returned to work and we were really overwhelmed by our new responsibilities, lack of sleep and losing our familiar routine.
We just budgeted for him to grab a sub every day at Subway for about $4. The high cost of eating out usually isn't with the Subway sandwich, it's when you buy a foot long, add a drink, chips and a cookie. Suddenly you have a $10 meal. Do that for 5 days a week and you've spent $50. If you grab a case of water (or just pack some from home in a Nalgene bottle) and a large sack of chips and a chip clip to keep in your car, you'll spend less than half of that.
Over a month that adds up to a $100 savings a month and you're eating the same thing. I'm not saying that trips to Subway should be an everyday event for you, I'm saying that you shouldn't be afraid to think outside the box when it comes to your schedule. If you're going to have a hectic day and will likely give in to the temptation of fast food anyway, planning ahead to minimize the damage is a smart move.
List the recipe source and time to thaw on your meal plan.
As you fill in dinners, list the recipe source and page, and how long you need to plan to cook dinner (i.e. 15 minutes versus 12 hours for a slow cooker). Adding the time needed to cook is a huge time saver and prevents you from going to make dinner at 5pm and realizing that the ribs you bought take 4 hours to cook. When you can tell at a glance when to make dinner, it helps minimize the times that you abandon your menu plan.
Limit Sides
You get one "recipe" per meal. That's it. Unless it's a holiday. Until you get better at meal planning, stick to steamed veggies and salads and leave the loaded baked potato salads.
Limit your trips to the store.
You're busy. I'm busy.
We all have way too much stuff to do. Let's not add in extra grocery trips to make the situation worse. Plan to only go to the grocery store once a week. This helps you manage your time better and can help you stick to your meal plan and use up all of the food that you bought.
Go through your menu plan. Are there meals at the end of the week that need fresh ingredients? If so, move the meals around so that those meals get eaten first. By the last day of the week, we're usually eating out of our freezer. Some foods just don't keep for a week no matter how hard you try. Plan to have those dishes first so the ingredients don't spoil.
On that note- serve what you have planned. Even if there's something else you like better. If you don't do this, then you'll end the week with a pantry of veggies and not a snack food or bowl of ice cream in site. Serving the healthy stuff increases the chances that it actually gets consumed and helps you stretch your grocery budget.
Grab your free simple meal planning for beginners printable!
You can grab your free PDF copy of this simple meal planning for beginners by clicking here.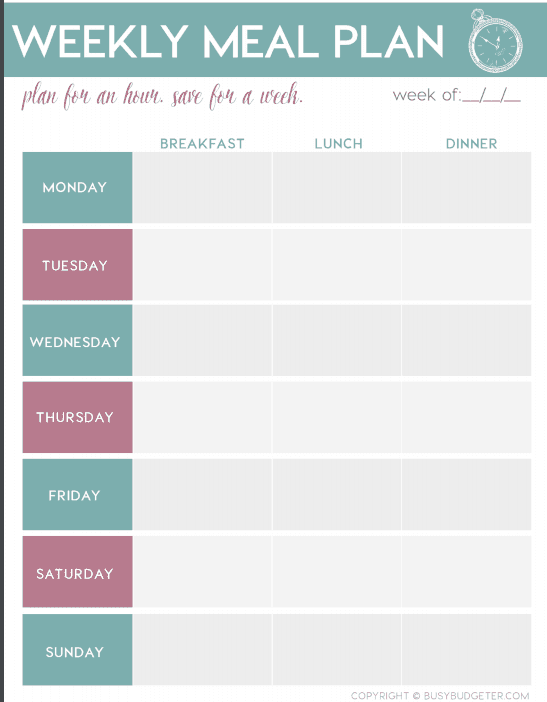 Establish a routine.
You need to make grocery shopping easy. Establishing a routine is the only way that I know to do that. It's going to suck for the first few weeks. In the end though, this is the smartest thing you can do to set yourself up for successful meal planning.
Choose a day of the week that you can spend an hour meal planning and making a shopping list, and choose another day of the week that you're going to go grocery shopping. Put it in your calendar and make absolutely sure that it's done every week at the same time. After a few weeks, this will be easy and you won't have to force yourself to make time for it.
Thinking Outside the Box…
One of the things I like to address on this site is that the cheapest alternative isn't always the right alternative. If you've been eating fast food 4 times a week for the past few years and have no idea how to bake a chicken, then trying to immediately switch to making all of your meals from home and packing a lunch is likely going to fail miserably. Plus, you'll double your grocery bill as you buy food for the week, then eat out anyway because you can't find the time and motivation to cook.
Every change I've made on this journey was in small measurable baby steps in the right direction. If you're currently spending a ton on groceries (if you're not sure how much your spending, go into your online banking system and add all food purchases up), then don't be shy about substituting one of these alternatives to traditional planning.
This is our current favorite. They have a database of super easy to make freezer meals where you can make 10 of any of their recipes within an hour to freeze. They're healthy and delicious. They have allergy-friendly options and they do all of the planning for you. We switched to these a few months ago and haven't looked back since!
You can get more information on Freezeasy here.
They offer you fresh food that you pick up twice a week from a local pick up spot (usually a gym). The food is delicious, and it's meant to help you lose weight so the combinations are chosen by a nutritionist. We've tried this service and loved it.
If you have kids, you'll still need to make something for them since it's too pricey to get them their own plan. However, for singles and couples struggling to get into the routine of just not eating fast food, I think this is a solid option. It's pricey at $900 a month for a couple, but if you're spending more than that right now in groceries then it will save you money.
You can get info on Diet to Go here.
My favorite app to help with meal planning is Menuboard. You can search recipe websites (like All Recipes, The Food Network etc), and download recipes directly into the app from the website. Then you can just drag meals to each day and the app populates a shopping list for you automatically. It organizes your shopping list by area in your store, tracks prices and you can tap the item to remove it from the list when you throw it in your cart. $3.99, iOS.
Emeals has weekly menus that they choose, gives you shopping lists, you just follow along and cook what they tell you to. We tried this, and honestly it wasn't my favorite. That being said, I like the planning much, much more than cooking. This eliminates the planning, but you still have to cook. My husband absolutely loved it and ended up making most of our meals. (Which worked out well for me!)
You can get more info on eMeals here.
Many grocery stores are jumping on the grocery delivery bandwagon. We have Peapod by Giant here in Virginia which delivers your groceries to your door for $7.95. If you don't mind the cooking, but struggle with grocery shopping, try this.
With Peapod by Giant, the prices are on par with their brick and mortar stores, the food is fresh, they accept coupons and I save money by not grabbing impulse purchases.
You can find out more about Peapod by Giant Delivery here (and get $15 off your first order to try it!)
Keep a few pantry meals in the house.
Finally, you should always keep at least one pantry meal in the house. I would suggest several, but definitely one. Pantry meals are your "If all else fails" meals. When you forgot to thaw the meat, when you forgot to go grocery shopping etc. This is your backup plan before you order pizza.
The ingredients can stay in your kitchen without going bad for a few months until their needed. It can be as simple as peanut butter and jelly, or something more advanced like rodeo cowboy burgers. You can read more about pantry meals and my favorite pantry meal recipes here.
Action steps: Meal planning for beginners.
Look at your schedule for the next week.
Decide what days will need very simple solutions (15 minute meals, freezer cooking meals).
Choose simple recipes with few ingredients to fill in the dinners.
Choose two or 3 options for easy lunches and breakfasts.
Create a shopping list of ingredients you will need for your menu.
Fill out your menu, indicating a recipe source and a time needed to cook.
Post your menu plan on your fridge, or in a schedule book that's accessible to you every day.
Refer to it daily to make sure that you're following it and that food is thawed from the freezer at the right time (about 2 days before use).
Choose pantry meals and post them on the fridge in case you need them.
Next Steps:
Do you spend too much on groceries? Do you end up calling for pizza or going through the drive-thru line more nights than you care to admit? I've totally been there! But the 90 Day Budget Bootcamp taught me how to budget. You can now get immediate access to the 90 Day Budget Bootcamp for FREE (limited time only!) through this link. You'll learn how to create a *realistic* budget that you can actually stick to, create a meal plan of simple 15 minute meals (like this one!) that take less time than the drive-thru, and even get your spouse on board with the budget. Grab it here for free before it's gone!
What's your best advice for meal planning for beginners?
P.S. If you're feeling like no matter what you do you can't get your house under control (not to mention your budget!) we completely understand. If you are sick of spending all day "catching up", only to have it completely trashed again in a few days, then you should check out our FREE training "Why Your House is Trashed: The 3 Step Shortcut to Transform Your Home For Good With No Extra Time" which will walk you through how to break that cycle once and for all.
The training will walk you step by step through the three foundational routines that will help you manage all aspects of your home no matter how bad your situation is right now.
Implementing this core foundation allows you to work with your personality (and your specific situation) to create a custom plan to manage your dishes, laundry, schedule book, meal planning, budgeting, and a cleaning routine in less than one hour a day. You read that right, ONE HOUR A DAY.
If you want to take it a step further, we can teach you how to automate a ton of stuff in your home (without paying for it), giving you back HOURS of your life (yes, even your crazy life!). Then once you get the foundation set, we move on to more complex skills like meal planning, budgeting, and cleaning.
This is a proven system that's been field-tested by thousands of people. People that have tried everything and could never keep their house clean or stick to a budget.
Like Jenn, who said "I used to struggle with absolutely everything. I married a man with 4 amazing kids and suddenly found myself drowning in dishes, laundry, and cleaning. There was NEVER enough money to cover everything and cooking meals that everyone would eat was impossible."
"Then my dad got cancer and I also became his caregiver. The house and my stress level went from bad to worse overnight. I got the Hot Mess to Home Success course in desperation sitting in an ER waiting room at 3 am. I thought there was no way it could really help me since my situation was so unique with 4 step kids and being a caregiver for my Dad."
"I had probably always been a hot mess, but this was a whole new low for me. Fast forward three months into the course and I meal plan regularly and stick to it (that's never happened before), I use a planner every day, I have no dishes and laundry backed up (!) and I have significantly more time to do the things that matter (like helping my family battle cancer). You don't even realize how much of a difference this stuff makes until it becomes your lifeline. I can't imagine going back to how I used to live and I'm glad I never have to. I'm really grateful for that 3 am purchase!"
If you are ready to get started, you can sign up for the FREE one-hour training "Why Your House is Trashed: The 3 Step Shortcut to Transform Your Home For Good With No Extra Time" here…
FTC Disclosure of Material Connection: In order for us to maintain this website, some of the links in the post above may be affiliate links. Regardless, we only recommend products or services we use personally and/or believe will add value to readers.